Description
Yamaha P-125 88-Key Weighted Action Digital Piano + Yamaha L-125B Piano Stand Black – + Yamaha LP-1B 3-Pedal Unit Black
Yamaha P-125 88-Key Weighted Action Digital Piano + Yamaha L-125B Piano Stand Black – Building on the great success of its predecessor, the P-125 comes with even more features to help you grow with your music. It produces the dynamic, high-quality sound and natural piano touch response expected from Yamaha pianos while maintaining a sleek and slim footprint.
The modest design of the P-125 was created with user accessibility in mind. With the goal of being as user-friendly and approachable as possible, every element of the P-125 is designed to help keep the player focused on their playing. The minimal light reflection of its continuous surface and the understated speaker design all work to collectively achieve a beautiful and elegant finish.
Yamaha P-125 Digital Piano Features:
GHS weighted action is heavier in the low keys and lighter in the high keys, just like an acoustic piano
Matte black key tops absorb moisture and remain tactile after extended use without becoming slippery
Pure CF Sound Engine with 4-level sampling faithfully reproduces the tone of a meticulously sampled Yamaha 9′ CFIIIS concert grand
Damper Resonance DSP re-creates the sound of the inside of a grand piano when the dampers are off the strings
String Resonance re-creates the sympathetic sounds of all undamped strings resonating, mimicking the behavior of acoustic pianos
Key-off samples provide the delicate change in sound the instant the damper falls back to the string
USB to Host with MIDI and audio transfer for single-cable connectivity to your music-making software
Sound Boost adds EQ and volume to help the instrument project and cut through the mix using its onboard speakers, allowing you to be heard in small ensemble situations such as an acoustic jazz trio
Stereophonic Optimizer adjusts the spatial distribution of sound in headphones, creating the perception that sound is coming from the piano, rather than from the headphones
Split mode lets you play a different Voice with each hand
Duo mode splits the keyboard into two halves, each with its own middle C, for practicing with a partner or teacher
Smart Pianist
Easy Voice selection and Easy settings
In addition to selecting piano voices, you can use the layer function to overlay voices, or the split function to play different voices with the left and right hands, playing multiple voices simultaneously to create performances with a pleasingly full sound.
A range of functions such as Transpose, Tuning, Pedal and acoustic settings can be configured easily and intuitively from the touch screen.
*Voice selection and configurable functions may differ depending on the model.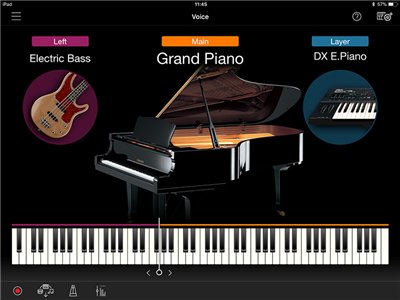 Play your favorite songs right away with chord progression
Smart Pianist can extract chords from Audio that automatically creates a chord progression from audio songs on your smart device, allowing you to enjoy playing along with your favorite tunes.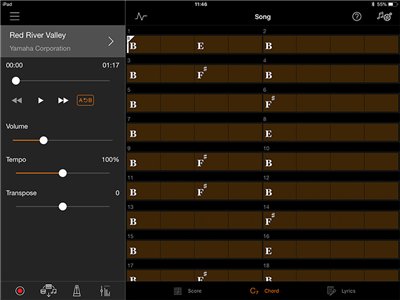 The method for connecting an instrument to iOS devices
An Apple Lightning – USB Camera Adapter and a USB cable (sold separately) are required.
Connect the USB cable to the USB TO HOST port on the instrument.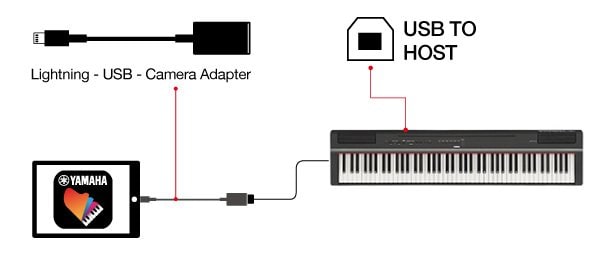 Yamaha L-125B Piano Stand Black
The black Yamaha L-125B Stand from Yamaha elegantly supports and compliments the P-125 digital piano. Crafted from wood, this sturdy platform is the ideal solution for P-125 owners seeking a modern, attractive alternative to uninviting keyboard stands. Additionally, an optional three-pedal unit (the LP-1) is sold separately which fits perfectly in the L-125B and replicates the damper, soft, and sostenuto functionality of a grand piano.
For P-125 88-Note Digital Piano
Sturdy Wooden Platform
Fits Optional LP-1 3-Pedal Unit
Black Finish
Yamaha LP-1 3-Pedal Unit for P-125 Digital Piano
The black Yamaha LP-1 is a three-pedal unit designed to deliver piano-style sustain, sostenuto, and soft control for musicians playing Yamaha P-121, P-125, or P-515 digital pianos on stage, in lessons, or at home. Proper installation with your Yamaha P-121, P-125, or P-515 requires a separately available corresponding stand (L-121, L-125, or L515). The LP-1 supports half-damper response and connects to your compatible digital piano via the included multi-pin DIN cable. Its durable metal construction withstands the rigors of daily use.
Piano-style sustain, sostenuto, and soft control for your Yamaha P-121, P-125, or P-515 digital piano
Requires a matching piano stand (available separately) for proper installation with your piano—L-121 stand for the P-121 piano, L-125 stand for the P-125 piano, or L-515 stand for the P-515 piano
Supports half-damper response
Multi-pin DIN cable for easy hook-up